Every mother has a busy schedule! This year the toy fair was amazing but short-lived for me, I spent only 1 and half days instead of the usual 3. My daughter had a baby boy this month, my first grandson! I couldn't miss that and my son had to move to a new place and of course I had to help him get settled in and organized! The wonders of mother duties.  Bringing the best Educational Toys to my company to help parents and schools every year is one the biggest highlights in my life.
How to get rid of side belly fat bodybuilding dragon pharma uk luca sgrò goldsmith workshop – kunena – topic: buying clopidogrel bodybuilding.
Ygrowup.net is not just on online store, it is the liaison between us and parents and schools to help them choose the best Educational toys. I review every single toy before we list them on our website and maintain a close relationship with the manufacturing company. It is important for me to understand how the product was developed.
I have listed a small pick of some of my favorites this year and which will be coming soon to our website.
Toy Fair 2019
Many great companies were part of the toy fair this year. Companies like Hape, EduShape and the usual goers Melissa and Doug. It is always such great pleasure to visit the booths of all theses companies and see the new toys we can add to our website. I also had the honor to meet and get to know the newer brands personally.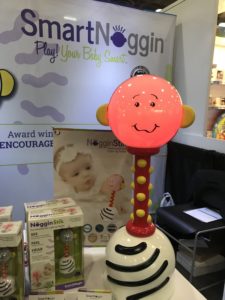 The NogginStik developmental light-up rattle is the perfect first learning toy for a baby.  Designed in a way to help parents, caregivers and early intervention therapists begin encouraging early milestones in infants. The lights stimulate the baby's eyes and to encourage visual tracking.  The base of the NogginStik makes a soft rattle sound to please the ears and the handle helps the process of mastering grasping and fun textures to delight the sense of touch.
At ygrowup we actively search for toys that enable parents and caretakers to stimulate their children. We believe that babies can be stimulated as soon as they are born with sensory skill toys. We will soon be bringing more developmental activity toys, like different baby gyms that can be used since an early age. Stay tuned! We are bringing Yookidoo products to Ygrowup.net.
Coding at Ygrowup.net
One exceptional toy that absolutely caught my attention this year was the RoboBricks. The RoboBricks is an offline coding game that helps young children understand the real concept of coding without the computer through their thinking skills.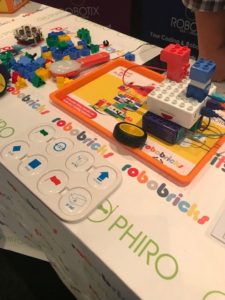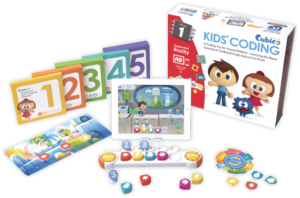 New Educational Toys
Another company we enjoyed meeting was pai Technology. For the older kids, pai Technology helps turn screen time into learning time and playtime. The company offers a Circuit Conductor toy that helps children learn about magnetism, currents and conduct electricity. The toy uses 12 different electrical function blocks and specially insulated wires to build fun circuits and learn about electricity! Circuit Conductor emphasizes focus, concentration, creativity, and hand-eye coordination.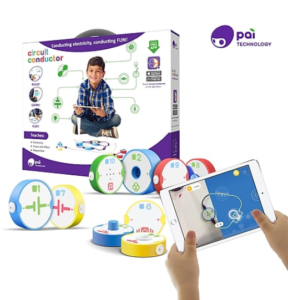 Every time I attend the toy fair I feel as if I am in Toy-land , actually I am.  I play and try each toy, meet with small and big companies and talk to the people who created the products to understand the behind the scenes of the ideas and creations. It is so wonderful to hear how a product was created by a person. At the same time these companies are fascinated by how Ygrowup.net came to be and our history with being part of children's' lives. The reality is that when you are face to face with a  new and small company, this is when you feel the most satisfied. It is so exciting to see individuals realize their dreams through toys that will help and enhance a child's developmental stages.
NAEYC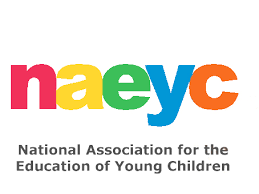 This past November I had the honor of attending the NAEYC annual conference. I was part of a panel discussing the importance of STEM toys at an early age. STEM toys give parents and teachers the opportunity to be part of hands-on play before introducing any type of screen time to a child. Learning through play helps develop the appropriate skills that eventually help a child understand different concepts. Coding without the screen is an example.
New Toys!
One of our new focuses will be to help parents decorate their children's rooms with educational room accents, toys and books. Melissa and Doug and other companies have created some decor that we will be selling on our website ygrowup.net. Some of these products will be available after March. In the pictures shown above, you can see some of the favorite stuffed animals and accents.
Look what is new in playroom Carpets! 3D Carpets that help children stimulate their creativity.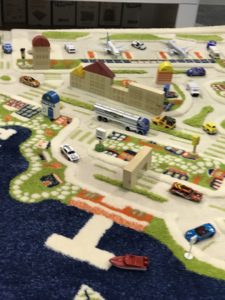 We are bringing new toys from some of both our new companies and old companies.  Be sure to check out our site to browse through them. Below you can see some of the new toys you can expect to see at ygrowup.net in addition to many more not displayed.