Bringing the best to YGrowUp.net from the 2017 Toy Fair!
It was a very exciting and exhausting weekend to say the least. There was a lot of walking through the three floors and whooping 840,000 square feet of the Jacob K. Javits Convention Center. I had the opportunity to not only visit and touch base with our current companies, but I was also able to exchange ideas and speak to the best educational toy companies from all over the world. These companies were presenting their new products and have potential to be part of ygrowup.net family, which is why I will be bringing their products to Ygrowup.net in the coming months. One of the most impressive parts is seeing companies that started along with us in 1994 when we had the Y Grow Up Activity center in Weston, FL. Some of them have now grown exponentially and it is just such an exciting feeling to see them bring new toys and keep the good old ones too. I remember testing their products with our children in our
Mommy and Me
classes. Some of those products are still in the market, which proves their quality over and over again. Children need these types of toys to help them with developmental stages and that is why we return to the toy fair, year after year, to be able to bring these toys to our parents, grandparents and teachers to provide the best foundations of learning process with your children. We are also excited to share some news! YGrowUp.net will be introducing a new area for new moms with newborns from 0-3 months.  We will also present a variety of packages recommendations for baby showers and playrooms. These packages help you design and rearrange rooms to give children's a sense of security in their own safe environment. We have many other goals for 2017. One of them is the idea of introducing parents with all-in-one learning kits for babies, toddlers and preschoolers. We will soon be adding new toys for the thinking skills, scribbles colors and puddles, civic center, and supermarket area, taking in consideration the age levels for the children. Don't forget that we will have a Giveaway, make sure you're in our mailing list and follow us in our social media account (Y Grow Up Toys- fb, Instagram, Pinterest).  Finally, the exciting news! We are currently working on a big project and we are aiming to have our own line of products and toys very soon! We are also working on something very exciting for expecting mothers and the babies in the womb, we will keep you posted! Please make sure to check out our website to search for the release of the new 2017 toys. Since they are not readily available, we are asking you to please sign up on the waitlist, in return you will be treated with priority once they are released. They should be available between March and May 2017.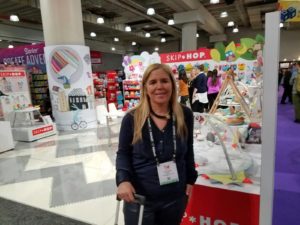 All the best, Viki Budik, M.S. Ed Owner, Y Grow Up
ygrowupmiami@gmail.com