Y Grow Up's Top Ten Kids Toys Summer Recommendations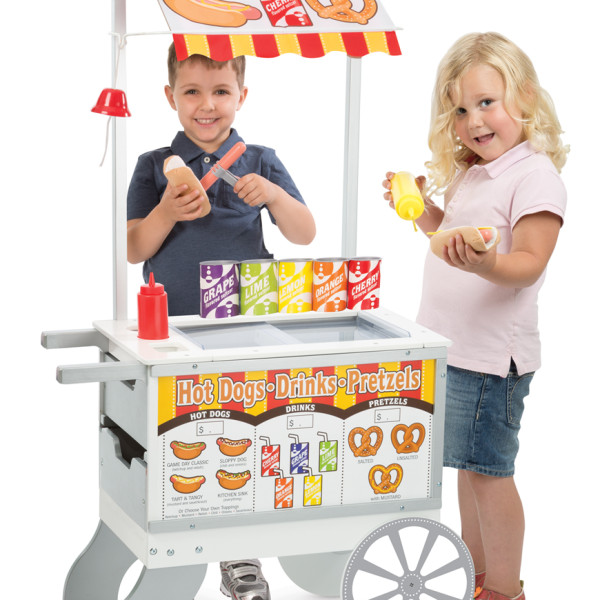 It is tremendously hard to select since all of the toys we carry on our website are an outstanding choice, but every couple of months Y Grow Up chooses the top ten kids toys of the month. We do this in effort to help parents and teachers promote the best education for their children. We like to pick them according to what children can relate to at the given moment. For example, for the summer we choose toys that are more relevant to summer activities, hot weather and so on. The top ten kids toys for the months of June and July and august are the following: You can let your child play with toys such as the
Sweet & Sunny Lemonade Stand
, the
Snacks and Sweets Food cart
, or
Let's Play House! Grocery Basket with Play Food
. Nothing tastes better on a hot day than an ice-cold glass of lemonade. Our Sweet and Sunny Lemonade Stand gives kids everything they need to run their very own pretend business. It comes complete with a chalkboard and lots of helpful storage space. They can sell lemonade in the yard and they can keep track of their income with the help of
Zylions Real Money ATM Bank.
This Real Money ATM Bank features holds actual money and keeps a running balance of your "account". This realistic wire grocery basket toy, can help them practice for when they go to the grocery store with you.
Planning a well-balanced meal is child's play with this wooden play food set, and so we recommend the
Food Groups – Wooden Play Food
. But eating right is not the only thing kids must do, reading is extremely important and should be part of your child's everyday life.  Good reads include our
Kitchen Club Kids (Volume 1 & 2)
and if your child is more on the active side, we recommend
uKloo Early Reader Treasure Hunt Game
. Disguised as a treasure hunt, this multi-award winning children's literacy game gets kids physically active as they read clues and search to find a hidden surprise. The uKloo Early Reader was selected as one of the top ten kids toys and classroom games not only by us, but also by the American Association of Educators.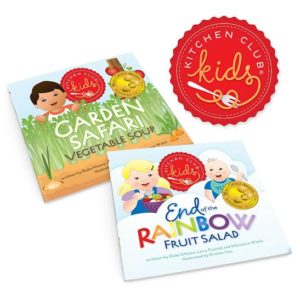 Another multi award toy is the
Teach My Toddler Learning Kit – Deluxe Version
. Teach My Toddler is an all-in-one learning kit for toddlers 18 months+. It is full of learning activities for toddlers and screen-free. The kit has everything to give your toddler a head start and teach the basics. Teach My Toddler is divided into four sections; The Alphabet, Numbers to 10, Shapes and Colors.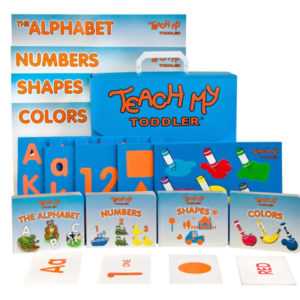 Don't forget the
Toddler Activity Station
and the
ALEX Toys Artist Studio Super Rolling Art Center
. The artist studio is the ultimate easel for young artists! Our fun toddler activity station is just what preschoolers and early learners need to engage in fun imaginative play.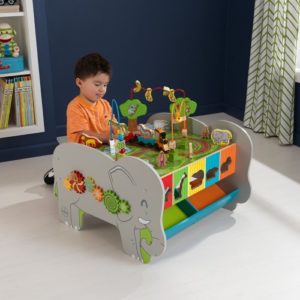 Find the best 2017 top ten kids toys selected by our education professionals at Y Grow Up. You will not be disappointed.
Overcome Learning Difficulties with Special Needs Toys
Special needs toys need to be safe, fun and build children's intellectual, physical and emotional skills. Our games, puzzles and toys will keep them amused for hours, and simultaneously improve logic, hand-eye coordination, memory and problem-solving skills. We sell a vast selection of unique special needs toys, including blocks, cognitive play, educational, fine and gross motor, and pretend. Nourish your child's imagination and developmental skills with one of these great items. The award-winning
Deluxe Mini Play Cube
is an absolute favorite among children and is also a perfect match for special needs toys. Little ones love the various activities available that provide hours of engaging and intriguing play. It features 5 popular toys in one: the Mini Roller coaster Express, Pathfinder, Counting Abacus, Fun Gears, and Learn the Alphabet. Each side offers a distinct sensory learning experience for children, promoting basic learning skills such as visual tracking, math skills, hand-eye coordination, color recognition and more! The
Magnet Express Wall Panel
is based on our original award-winning Magnet Express.  It is fun and educational, enhancing various basic learning skills such as motor skills, hand-eye coordination, and fine and gross motor dexterity as children use magnetic wands to guide the balls through the maze! A unique and captivating wall panel that is decorative and saves space. A
6-Station, modular Sand and Water Play Center
that promotes tactile discovery, fine motor skills and social interaction, and sensory experiences. Use a variety of textures to stimulate different sensory input in children including sand, water, beans, or shaving cream. Built in drains make clean up easy and storage lids keep everything in place. Two other excellent toys we carry for kids with special needs are the
Educational Ball Assortment
and the
Special Alphabet Set
. The educational ball assortment has surface that is velvety soft and provides excellent stimulation. Roll them, bounce them, or throw them, Rubbabu balls are safe birth upwards. The Special Alphabet Set is a set of 26 alphabet tiles, one each with A-Z embossed on it in both Braille and the English alphabet. Safe birth and up, this is a toy not only for visually impaired children.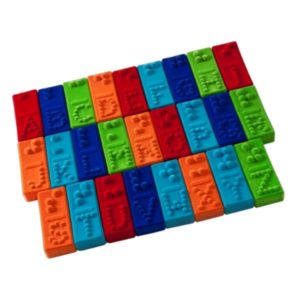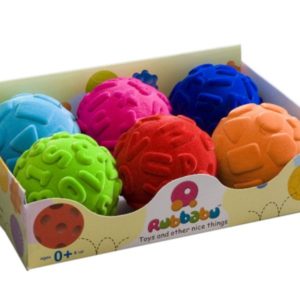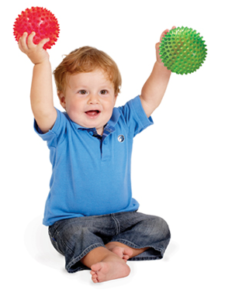 At Y Grow Up we have special needs toys for those of us w/ special needs kids. Shop now & receive 10% off w/ code 10OFF.
Developmental baby toys by Ages and Stages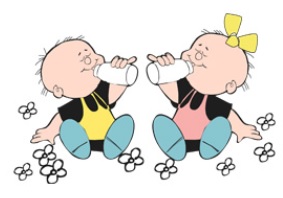 As parents and educators it is very important to take in consideration what baby toys will help your baby in every age and stage of their life.  Not only because of safety reasons, but also we do not want to make cause frustration in your child. Ygrowup facilitates you with the classification on the website which allows you to choose the appropriate toy.
0 to 3 Months Baby toys
Contrary to what you may believe, newborns and very young infants only develop their vision the first few months of their lives. They see only black and white. Things like faces and voices is what attracts and holds their attention. In this stage they start becoming aware of their own bodies so concentrating your attention on their tiny hands and feet is necessary. Some recommended baby toys to be used at this age and stage are:
Black and white toys
Play mats
Rattles
Mobiles
Socks and wrist rattles
Edushape`s Edu-Fit series all feature high contrast patterns, vivid colors and various textures to stimulate baby`s senses, and encourage key developmental aspects.
EduFit Mega Pack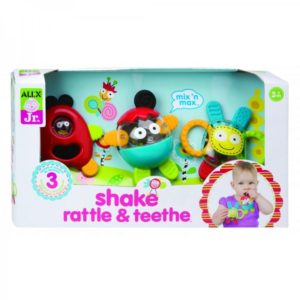 Teething can sometimes be uncomfortable for babies, but friends from Shake, Rattle and Teethe, can ease the pain along. Bright faces, multiple textures and rattles entertain, while providing the visual stimulation for growing minds. Light and easy to hold, Shake, Rattle and Teethe friends baby toys are ready for playtime, nap time or anytime they need a buddy to keep them company.
https://ygrowup.net/shop/shop-by-age/9-12month/alex-toys-alex-jr-shake-rattle-teethe/
3-6 Months
Between the stage of three to six month babies are able to grasp and hold objects. The unfortunate thing as many of you may know is that it excites them and they feel the need to put everything in their mouths. Perhaps it is because it is during this time that many babies begin to teeth. During this time, you also find the majority of babies on their tummies.  After many tries of pushing on their hands and knees and eventually learn to sit up. A great collection baby toys to have between three and six months are the following:
teething rings
soft blocks
balls
play mats with toys that hang
soft squeaky toys
finger puppets
Mega Set Ball value pack. Includes green Triangle ball: 5", Sensory See-Me red ball 7" ,two Sensory See- Me orange and yellow 4", Peanut purple ball 2½", two Massage Roll balls red and yellow ball 3", Rainbow soft ball: 7", Stripes ball 5".
https://ygrowup.net/shop/shop-by-age/0-6-month/sensory-ball-set-9/
All three Soft Pals – Teether, Rattle Squeaker in one great, easy to wrap gift package. Features are the same as the individual Soft Pals above. All being machine washable and easy to grasp!
https://ygrowup.net/shop/toddlers-area/soft-pals/
Bursting with color and sound, the Rainboshakers are light yet durable, and easy to grip. Shake as a rattle or turn over to listen and watch the beads swirl! Assorted colors.16 rainbow shakers
Tube Shakers Display
6-9 Months
Babies' fine motor skills are improving. They start using pincer grasp around this time, which opens up a whole new territory of play. Some babies start to crawl at this age. And babies are starting to understand object permanence, which often leads to "stranger danger" fear and anxiety (absolutely normal). Toys babies of this age enjoy:
small balls
peek-a-boo books and toys
toy cars and push toys
soft dolls
sensory boxes
Great for baby's first book, delightful self-play, social playing, role playing at its best, narrative thinking skills and so much more! A lovable puppet who travels through an enchanting ocean, sky, city and forest in the soft and colorful book, stimulating imagination all along the way. Puppet can be played with by itself or can integrate with the book.
Puppet Playland
Small 4″ (10 cm) round, sturdy "See-Through", inflatable nubby balls. Assorted colors (red, yellow, blue, green) set of 4 colors balls per pk.
https://ygrowup.net/shop/circle-time/sensory-see-me-balls-4/
9-12 Months
Babies of this stage are very active and curious. They are able to manipulate objects in different ways, banging two toys together or releasing them from their hands. They enjoy the interaction with others, therefore social games are encouraged. Roll a ball across the floor or build with blocks together. Your almost one-year-old will benefits from these toys:
fabric tunnels
four-wheeled push toys
stacking and nesting toys
bouncy balls
bubbles
large building blocks such as Mega blocks
A beginner set to inspire logic, creativity and sense of accomplishment.
Stack a huge tower and knock it down!
Help develop early math skills.
Helps build understand of how things work.
Stacking Stay Tray(TM) help even the youngest baby make a stack.
At birth, a newborn's eyesight is not yet fully developed and she is not able to see the full spectrum of colors. Red is the first color she will be able to detect. Other colors, specifically blue, are not able to be detected until 3 months of age.
https://ygrowup.net/shop/shop-by-age/9-12month/deluxe-starter-set/
Baby will love these 14 pieces of popping fun! They 'pop' when little hands connect and disconnect them. Bright, engaging colors in 5 unique shapes for baby to discover. They'll love spilling them out of the container, too. Suitable for babies up to 50lbs. Softly safe starter playground for beginner motor skills. MUST BE USED IN CORNER FOR SAFETY. Mirrors sold separately. Over 4" thick with pieces from 4" to over 15" long! Brightly colored Edu-Foam blocks feature patterned front and backs. Suitable for any age, the multiple shapes can create gigantic, yet light weight, structures. Assorted block shapes and primary colors.
Introducing Toddlers To STEM Toys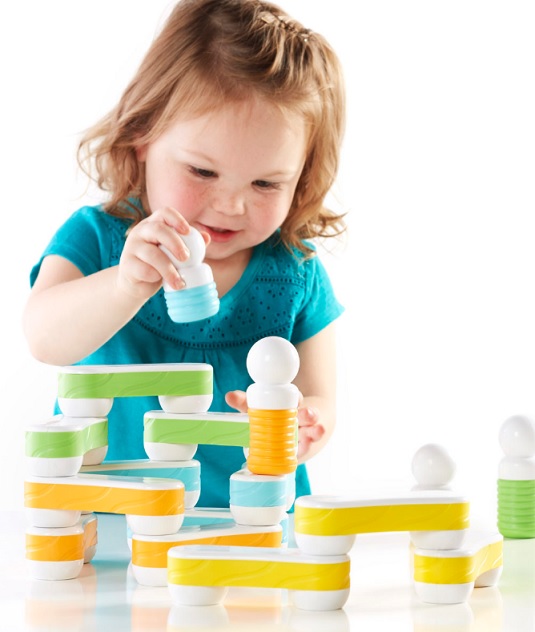 The 
STEM
 concept is the future and possibly one of the most important trends in 
toys
, it focuses on areas of learning that our children need to be comfortable with to excel in the future. STEM is an acronym introduced by the National Science Foundation, it stands for Science, Technology, Engineering and Mathematics. STEM toys for kids makes creators, thinkers, problem solvers, doers, innovators, and inventors. Many experts believe that it is the school system's duty to ensure that all students complete their studies with a thorough understanding of science, technology, engineering, and mathematics. It is never too early to start STEM education, and the perfect way to teach STEM is to expose them to nature. Children are always curious and what better way is there to help them build STEM skills that create a solid foundation for future learning, than by natural settings which offer children countless opportunities to explore and investigate? Children need to learn the same material in different settings. In this way, children can learn concepts from different disciplines in different contexts, all in ways that are naturally engaging to them. This technique exposes toddlers with STEM toy that will give them the foundation for the future in science, technology, engineering and math. We can start our children at an early age.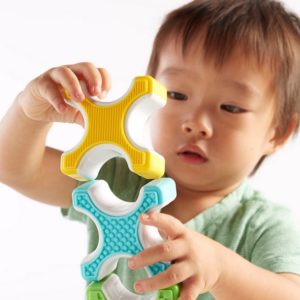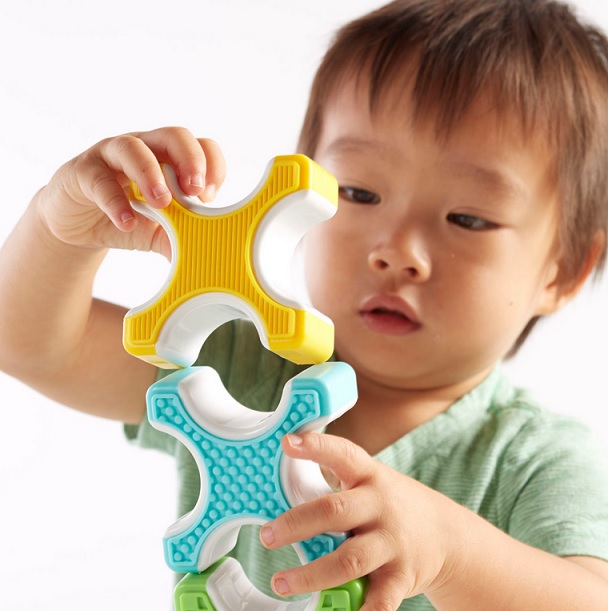 STEM toys for kids:
Better Builders® Reflections 29 Piece Set
The first STEM building toy system for toddlers, Better Builders® Grippies® combines tactile exploration, magnetic play and an introduction to the basic principles of engineering and geometry. Grippies® unique, magnetic rod and ball configuration provide a secure, frustration-free set of construction options as children first discover the joy of building. Unique in concept and design, Grippies® provide a fun, safe and exploratory experience for toddlers. The 30 piece set features 4 soft matte textures in exciting bright colors.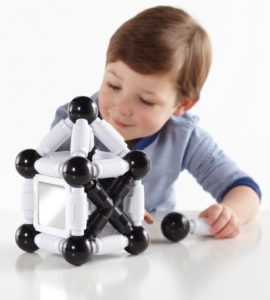 A new yet natural fit for discovering the principles of sight and symmetry, Better Builders® Reflections Stem toys for kids showcases a limited black and white color scheme throughout. The X-shape enhances early engineering skills and reflective mirror panels encourage sensory experiences. Ideal for a Montessori approach to learning and discovery. The 29 piece set coordinates with all original Better Builders® construction sets.
Better Builders® Reflections 29 Piece Set
Numerals (Magnetic) 4″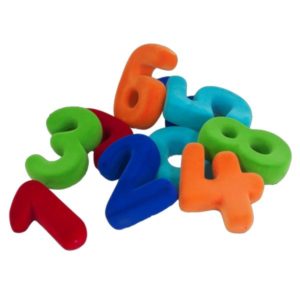 Colorful magnetic numbers from Rubbabu in our unique soft and tactile material. It is one of our favorite stem toys for kids for ages 3 and up.  It helps to develop number skills. Great for learning letters and spellings, as well as for children with special needs. Handmade in India, child-safe and earth-friendly.
Numerals (Magnetic) 4″
Guidecraft™ Better Builders® 26 Piece Set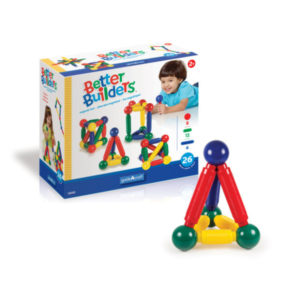 With super strong magnetic force, unique rod and ball configurations and myriad design possibilities, Better Builders are a wonderfully inventive way to help children discover principles of science, construction, and engineering while developing their creativity skills. Includes handy storage bin and deluxe 13-page Activity Guide which explores magnet science and provides sample building models for all ages. Magnets are safely and securely embedded in the over-sized rods. Metal balls ensure a quick and strong connection. Tested to ages 18 months plus. An Oppenheim Platinum Best Toy Award Winner.
Guidecraft™ Better Builders® 26 Piece Set
Shape Sorter with Mirror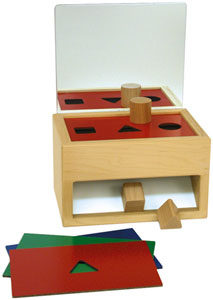 An innovative idea combining shape sorting activities with a mirror. Young children are fascinated when watching themselves perform. Child sits in front and straddles the box. When a shape is placed through the opening it slides down and lands between the child's legs, allowing the child to repeat the activity over and over without assistance. Mirror extends the child's attention span. 5 removable plates provided. Child works first with individual shapes and graduates to all 3 shapes.
Product Features
The child learns to grasp and fit 3 dimensional shapes, and to discriminate between 3 basic geometric shapes.
The child also begins to develop a self concept by watching his/her performance in the mirror.
Shape Sorter with Mirror
6 Station Sand & Water Play Table with Lids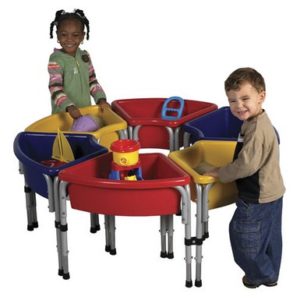 A 6-Station, modular Sand and Water Play Center that promotes tactile discovery, fine motor skills and social interaction. Each station features a removable basin for easy draining and cleaning, and translucent lids to keep the unit clean when not in use. This toy helps student not knowingly step into the science world, with measurements, mixing, and experiments. Although there may not be a measuring cup and dangerous chemicals, the simple fact that they will be inserting sand or water introduces them to the lab world.