As parents and educators it is very important to take in consideration what baby toys will help your baby in every age and stage of their life.  Not only because of safety reasons, but also we do not want to make cause frustration in your child. Ygrowup facilitates you with the classification on the website which allows you to choose the appropriate toy.
0 to 3 Months Baby toys

Contrary to what you may believe, newborns and very young infants only develop their vision the first few months of their lives. They see only black and white. Things like faces and voices is what attracts and holds their attention. In this stage they start becoming aware of their own bodies so concentrating your attention on their tiny hands and feet is necessary. Some recommended baby toys to be used at this age and stage are:
Black and white toys
Play mats
Rattles
Mobiles
Socks and wrist rattles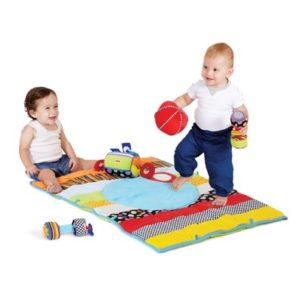 Edushape`s Edu-Fit series all feature high contrast patterns, vivid colors and various textures to stimulate baby`s senses, and encourage key developmental aspects.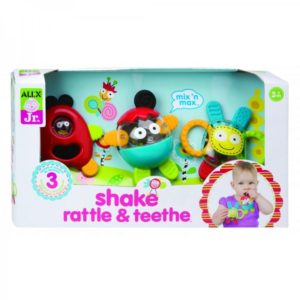 Teething can sometimes be uncomfortable for babies, but friends from Shake, Rattle and Teethe, can ease the pain along. Bright faces, multiple textures and rattles entertain, while providing the visual stimulation for growing minds. Light and easy to hold, Shake, Rattle and Teethe friends baby toys are ready for playtime, nap time or anytime they need a buddy to keep them company.
https://ygrowup.net/shop/shop-by-age/9-12month/alex-toys-alex-jr-shake-rattle-teethe/
3-6 Months
Between the stage of three to six month babies are able to grasp and hold objects. The unfortunate thing as many of you may know is that it excites them and they feel the need to put everything in their mouths. Perhaps it is because it is during this time that many babies begin to teeth.
During this time, you also find the majority of babies on their tummies.  After many tries of pushing on their hands and knees and eventually learn to sit up.
A great collection baby toys to have between three and six months are the following:
teething rings
soft blocks
balls
play mats with toys that hang
soft squeaky toys
finger puppets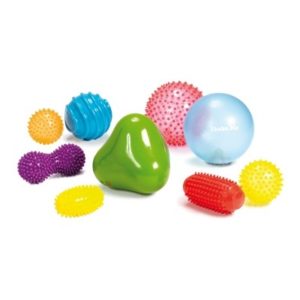 Mega Set Ball value pack. Includes green Triangle ball: 5", Sensory See-Me red ball 7" ,two Sensory See- Me orange and yellow 4", Peanut purple ball 2½", two Massage Roll balls red and yellow ball 3", Rainbow soft ball: 7", Stripes ball 5".
https://ygrowup.net/shop/shop-by-age/0-6-month/sensory-ball-set-9/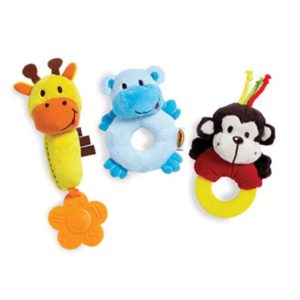 All three Soft Pals – Teether, Rattle Squeaker in one great, easy to wrap gift package. Features are the same as the individual Soft Pals above. All being machine washable and easy to grasp!
https://ygrowup.net/shop/toddlers-area/soft-pals/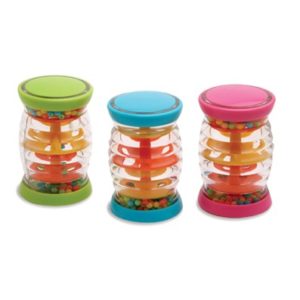 Bursting with color and sound, the Rainboshakers are light yet durable, and easy to grip. Shake as a rattle or turn over to listen and watch the beads swirl! Assorted colors.16 rainbow shakers
6-9 Months
Babies' fine motor skills are improving. They start using pincer grasp around this time, which opens up a whole new territory of play.
Some babies start to crawl at this age. And babies are starting to understand object permanence, which often leads to "stranger danger" fear and anxiety (absolutely normal).
Toys babies of this age enjoy:
small balls
peek-a-boo books and toys
toy cars and push toys
soft dolls
sensory boxes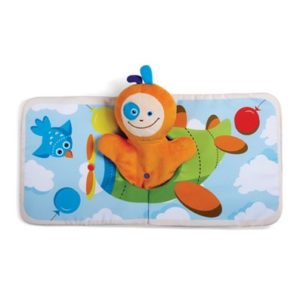 Great for baby's first book, delightful self-play, social playing, role playing at its best, narrative thinking skills and so much more! A lovable puppet who travels through an enchanting ocean, sky, city and forest in the soft and colorful book, stimulating imagination all along the way. Puppet can be played with by itself or can integrate with the book.
Small 4″ (10 cm) round, sturdy "See-Through", inflatable nubby balls. Assorted colors (red, yellow, blue, green) set of 4 colors balls per pk.
https://ygrowup.net/shop/circle-time/sensory-see-me-balls-4/
9-12 Months
Babies of this stage are very active and curious.
They are able to manipulate objects in different ways, banging two toys together or releasing them from their hands.
They enjoy the interaction with others, therefore social games are encouraged. Roll a ball across the floor or build with blocks together.
Your almost one-year-old will benefits from these toys:
fabric tunnels
four-wheeled push toys
stacking and nesting toys
bouncy balls
bubbles
large building blocks such as Mega blocks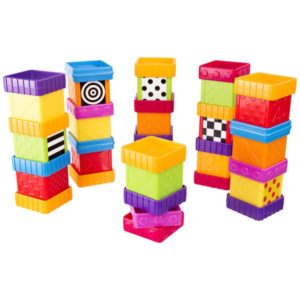 A beginner set to inspire logic, creativity and sense of accomplishment.
Stack a huge tower and knock it down!
Help develop early math skills.
Helps build understand of how things work.
Stacking Stay Tray(TM) help even the youngest baby make a stack.
At birth, a newborn's eyesight is not yet fully developed and she is not able to see the full spectrum of colors. Red is the first color she will be able to detect. Other colors, specifically blue, are not able to be detected until 3 months of age.
https://ygrowup.net/shop/shop-by-age/9-12month/deluxe-starter-set/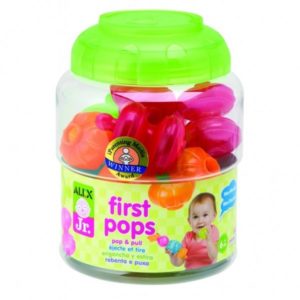 Baby will love these 14 pieces of popping fun! They 'pop' when little hands connect and disconnect them. Bright, engaging colors in 5 unique shapes for baby to discover. They'll love spilling them out of the container, too. Suitable for babies up to 50lbs.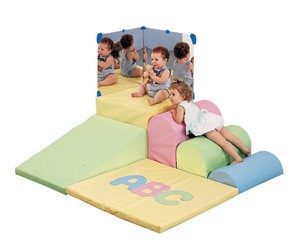 Softly safe starter playground for beginner motor skills. MUST BE USED IN CORNER FOR SAFETY. Mirrors sold separately.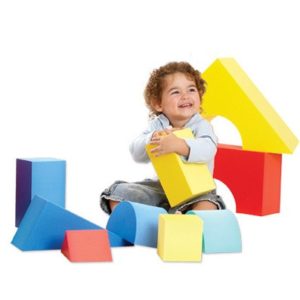 Over 4" thick with pieces from 4" to over 15" long! Brightly colored Edu-Foam blocks feature patterned front and backs. Suitable for any age, the multiple shapes can create gigantic, yet light weight, structures. Assorted block shapes and primary colors.