The STEM concept is the future and possibly one of the most important trends in toys, it focuses on areas of learning that our children need to be comfortable with to excel in the future. STEM is an acronym introduced by the National Science Foundation, it stands for Science, Technology, Engineering and Mathematics. STEM toys for kids makes creators, thinkers, problem solvers, doers, innovators, and inventors.
Many experts believe that it is the school system's duty to ensure that all students complete their studies with a thorough understanding of science, technology, engineering, and mathematics. It is never too early to start STEM education, and the perfect way to teach STEM is to expose them to nature. Children are always curious and what better way is there to help them build STEM skills that create a solid foundation for future learning, than by natural settings which offer children countless opportunities to explore and investigate? Children need to learn the same material in different settings. In this way, children can learn concepts from different disciplines in different contexts, all in ways that are naturally engaging to them.
This technique exposes toddlers with STEM toy that will give them the foundation for the future in science, technology, engineering and math. We can start our children at an early age.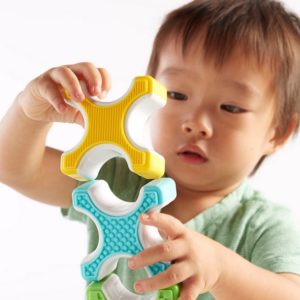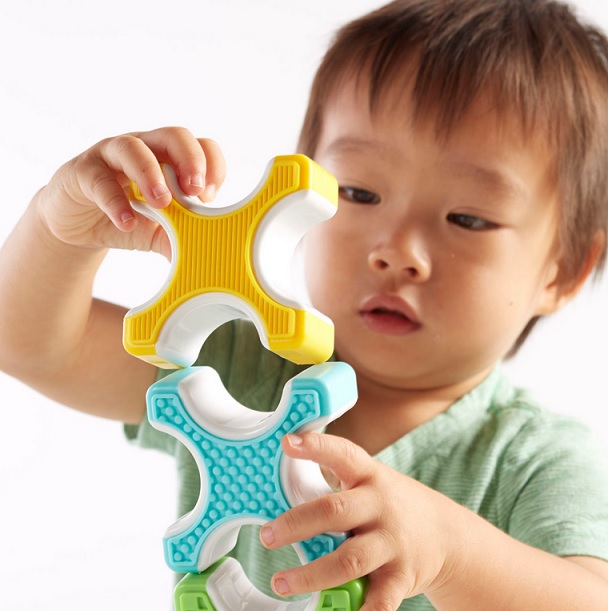 STEM toys for kids:
Better Builders® Reflections 29 Piece Set
The first STEM building toy system for toddlers, Better Builders® Grippies® combines tactile exploration, magnetic play and an introduction to the basic principles of engineering and geometry. Grippies® unique, magnetic rod and ball configuration provide a secure, frustration-free set of construction options as children first discover the joy of building. Unique in concept and design, Grippies® provide a fun, safe and exploratory experience for toddlers. The 30 piece set features 4 soft matte textures in exciting bright colors.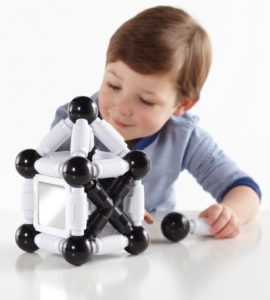 A new yet natural fit for discovering the principles of sight and symmetry, Better Builders® Reflections Stem toys for kids showcases a limited black and white color scheme throughout. The X-shape enhances early engineering skills and reflective mirror panels encourage sensory experiences. Ideal for a Montessori approach to learning and discovery. The 29 piece set coordinates with all original Better Builders® construction sets.
https://ygrowup.net/shop/shop-by-age/2-years/better-builders-reflections-29-piece-set/
Numerals (Magnetic) 4″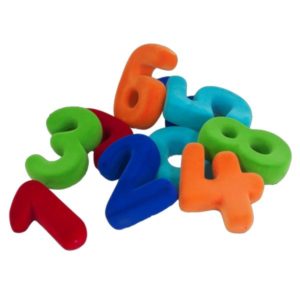 Colorful magnetic numbers from Rubbabu in our unique soft and tactile material. It is one of our favorite stem toys for kids for ages 3 and up.  It helps to develop number skills. Great for learning letters and spellings, as well as for children with special needs. Handmade in India, child-safe and earth-friendly.
Guidecraft™ Better Builders® 26 Piece Set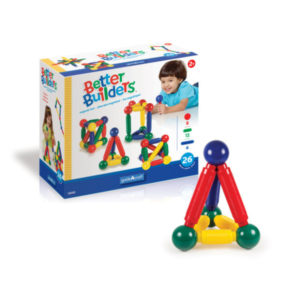 With super strong magnetic force, unique rod and ball configurations and myriad design possibilities, Better Builders are a wonderfully inventive way to help children discover principles of science, construction, and engineering while developing their creativity skills. Includes handy storage bin and deluxe 13-page Activity Guide which explores magnet science and provides sample building models for all ages. Magnets are safely and securely embedded in the over-sized rods. Metal balls ensure a quick and strong connection. Tested to ages 18 months plus. An Oppenheim Platinum Best Toy Award Winner.
Shape Sorter with Mirror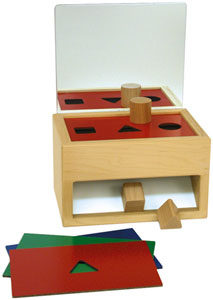 An innovative idea combining shape sorting activities with a mirror. Young children are fascinated when watching themselves perform. Child sits in front and straddles the box. When a shape is placed through the opening it slides down and lands between the child's legs, allowing the child to repeat the activity over and over without assistance. Mirror extends the child's attention span. 5 removable plates provided. Child works first with individual shapes and graduates to all 3 shapes.
Product Features
The child learns to grasp and fit 3 dimensional shapes, and to discriminate between 3 basic geometric shapes.
The child also begins to develop a self concept by watching his/her performance in the mirror.
6 Station Sand & Water Play Table with Lids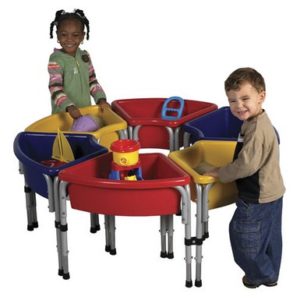 A 6-Station, modular Sand and Water Play Center that promotes tactile discovery, fine motor skills and social interaction. Each station features a removable basin for easy draining and cleaning, and translucent lids to keep the unit clean when not in use. This toy helps student not knowingly step into the science world, with measurements, mixing, and experiments. Although there may not be a measuring cup and dangerous chemicals, the simple fact that they will be inserting sand or water introduces them to the lab world.