Our company prides itself in being selective with the toys chosen to introduce to our parents. The toys in this category have received awards from Oppenheim Platinum and SNAP (Special Needs) Awards and The National Parenting Center seal of Approval, Parent Magazine, National Council of Lekoteks, Best of School Supplies Four Gold Stars, Manhattan Mothers & Others. Take a look at our award winning toys recommended for children.
Award Winning Toys:
Janod Body Magnet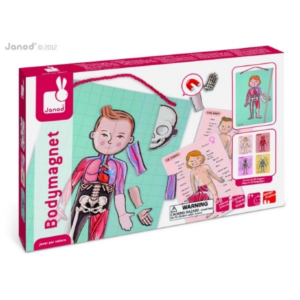 Learn the human body while having fun. 76 magnets and 1 magnetic board to learn and assemble the different parts of the human body. 4 maps with detailed explanations on: the skeleton, the organs, the muscles and the body (with translations in 10 languages: English, German, Dutch, Spanish, Catalan, Basque, Italian, Portuguese, Danish and Japanese). Comes with a wooden stick. These award winning toys have been rewarded in the US in 2012 and got the gold seal for the best toy at Oppenheim awards, recognition given by the consumers. Magnets and board in cardboard.
https://ygrowup.net/shop/cognitive/janod-body-magnet/
Wooden Shape Sorting Clock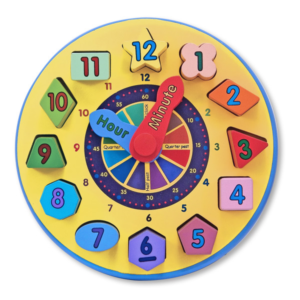 Time to play! A colorful wooden clock is one of our award winning toys that features 12 shaped wooden blocks that fit into matching slots, plus movable hands! With lots of "timely" information on the hands and clock face – including markings for quarter past, half past, and more (remove packaging label to reveal) – this is the perfect toy to help children master an abstract concept. Parents Magazine: Best Brainy Buys October 2004
Guidecraft PowerClix® Organics 100 Piece Set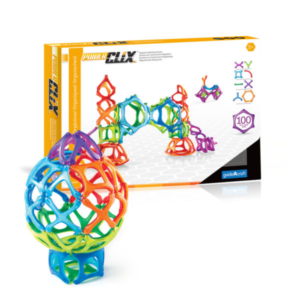 One of our most requested Award Winning Toys: PowerClix® Organics have colorful, translucent plastics and unique organic shapes that allow for open-ended, free-form, 3D constructions. Organics are for teaching and exploring organic geometry. With building pieces derived from shapes found in nature–such as skeletons, coral reefs, insects and plants–builders may now explore the use of a more organic visual language to replicate any object. Organics are designed to integrate flawlessly with Frames and Solids, all part of the PowerClix® System. Ages 5+
An open-ended magnetic construction toy with an easy click 'n connect system. Set includes 100 pieces and a Creativity Guide to fuel inspiration. Eight unique shapes create unlimited building possibilities. Magnets never repel, so creating 2D or 3D models is easy. Designed to integrate with all other PowerClix® System sets
Material: Translucent ABS plastic with neodymium magnets. Educational Focus: Fine motor skills, spatial concepts and asymmetrical thinking with STEM applications. Winner of 2015 top toy Awards – Oppenheim Platinum and SNAP (Special Needs) Awards and 2015 Parents' Choice top Gold Award and winner of The National Parenting Center seal of Approval
uKloo Early Reader Treasure Hunt Game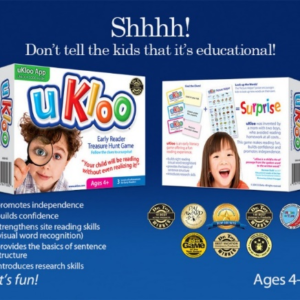 Shh! Don't tell the kid's that it's educational!
Disguised as a treasure hunt, this multi-award winning children's literacy game gets kids physically active as they read clues and search to find a hidden surprise. There's even a Picture Helper poster to look up words when kids get stuck! The children are so engaged, they begin reading without even realizing it. Great for beginner and reluctant readers, ADHD and children of all abilities. Selected as one of the 10 best classroom games and award winning toys by the American Association of Educators. Developed by a mom with the help of educational advisors, kids and parents.
Shape Sorter with Mirror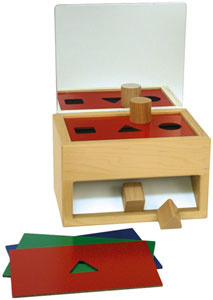 An innovative idea combining shape sorting activities with a mirror. Young children are fascinated when watching themselves perform. Child sits in front and straddles the box. When a shape is placed through the opening it slides down and lands between the child's legs, allowing the child to repeat the activity over and over without assistance. Mirror extends the child's attention span. 5 removable plates provided. Child works first with individual shapes and graduates to all 3 shapes. One of our oldies and favorite award winning toys.
Product Awards
Oppenheim Toy Portfolio
Exceptional Parent Magazine(Great Gifts)
National Council of Lekoteks (Best Toys)
Guidecraft Grippies® Builders – 20 pc. Set coming soon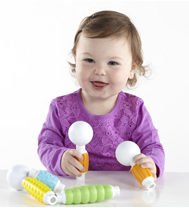 The STEM building toy system is one of our award winning toys for toddlers, Grippies Builders combines tactile exploration, magnetic play and an introduction to the basic principles of engineering and geometry. Grippies unique, magnetic rod and ball configuration provide a secure, frustration-free set of construction options as children first discover the joy of building. Unique in concept and design, Grippies® provide a fun, safe and exploratory experience for toddlers. Suggested age: 18 mos. +
Open-ended magnetic STEM building toy for toddlers, ages 18 mos. +
Combines tactile exploration with magnetic play.
Provides introduction to engineering
Winner of the Tillywig Brain Child Award, the National Parenting Center's Seal of Approval, Parents' Choice Awards Silver Honor, and the Oppenheim Gold and Special Needs Adaptable Product (SNAP) Awards
https://ygrowup.net/shop/shop-by-age/18-24/guidecraft-grippies-builders-20-pc-set/
Visit http://www.Ygrowup.net to see more of our Award Winning Toys that we recommend for parents to pick for their children.