At Ygrowup.net you can find the best classroom and playroom educational products.
Six Sided Play Cube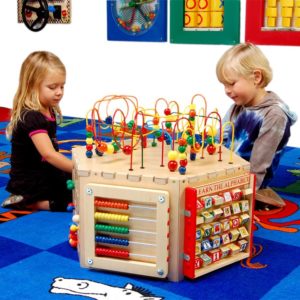 A new and exciting twist to our play cube series, the Six Sided Play Cube combines 7 fun activities into one ultimate play center!  Innovative design coupled with excellent activities, this cube provides hours of stimulating play.  Each side features a different activity: the Pathfinder, Learn the Alphabet, Counting Abacus, Fun Gears, Magnetic Circle Express, and Zigidy Zag Panel. The cube is topped with the classic roller coaster wire and bead mazes. This toy is truly a multi-sensory adventure, helping children develop hand-eye coordination, visual tracking skills, letter and color recognition, & much more! Entertaining, engaging, and educational with no loose pieces.  Great for the home, schools, waiting rooms, and any child-friendly play area.
City Transportation Wall Panel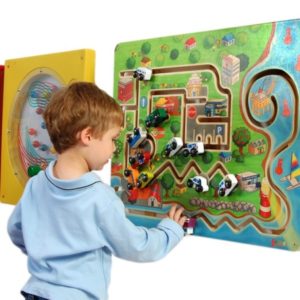 The City Transportation Wall Panel brings out the excitement and bustle of city life! Kids have so much fun using their imagination to move the cars around the panel, while attempting to avoid any head on collisions!  The beautiful artwork and attention to detail make this activity panel a decorative addition to any play area, waiting area, schools and more. It also helps children build on valuable skills such as hand-eye coordination, visual tracking, and sensory-motor skills. They will be having so much fun they will never even notice they are learning at the same time!
Busy Train Activity Panel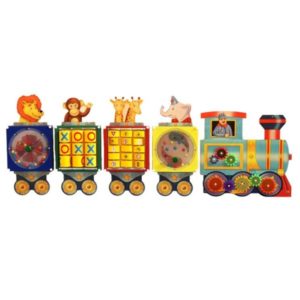 Looking for multiple fun activities in one? The Busy Train Activity Panel provides just that and more!  Featuring five fun panels that include Tic Tac Toe, Gears, Flipper Game, Paddle Wheel and Traffic Memory games – kids will never get bored!  The adorable circus-train themed artwork, with a lion, monkey, giraffe, elephant, and conductor in front makes this a decorative wall piece and child-magnet for any room. This wall panel makes excellent use of space and is completely self-contained, with no loose pieces. Perfect for the home, classrooms, play rooms, and waiting rooms alike!
Mini Circle of Fun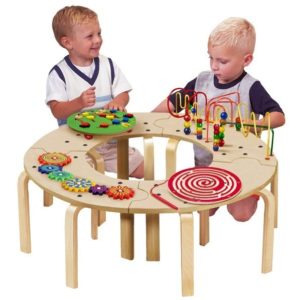 The Mini Circle of Fun combines four benches of fun activities in one! It can be set up in a circle, serpentine shape, or individually to provide endless play.  The four benches include: The Caterpillar Pathfinder, Circle Express, Gear Panel, and Wire & Bead Mazes. The design encourages group play and promotes basic learning skills such as eye-hand coordination, visual tracking, color recognition, and more.  A great activity center for doctors' offices, schools, waiting rooms and even the home
City Transportation Table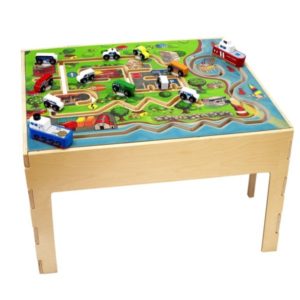 The excitement of city travel is brought alive in the City Transportation Table! Kids have so much fun using their imagination to move the cars around the tabletop, while trying to avoid any collisions. The table features 12 separate wooden pieces that kids can move around the tracks, keeping them busy for hours. Also several children can play together, encouraging group play and interaction. It also promotes hand-eye coordination and hones fine motor skills. And don't worry about loose pieces, the whole toy is self-contained, making it great for play rooms, homes, schools, offices, and waiting rooms.
Base Line Table & Chair Set
This ideal toddler table provides a wide open space for eating, learning and playing
Children can work independently, standing or sitting
Vibrant colors and smart design
Conveniently sold as a set; table and 4 chairs
Table has gray top and red trim
Chairs are royal blue, candy apple red, shamrock green and canary yellow
Durable, built to last with no exposed hardware
Lightweight, simple to move
Easy-to-clean laminate surfaces
PVC legs and leg boots reduce noise
Ages 14 months – 3 years
5-year warranty
Has achieved GREENGUARD Gold standard
Doctor Role Play Costume Set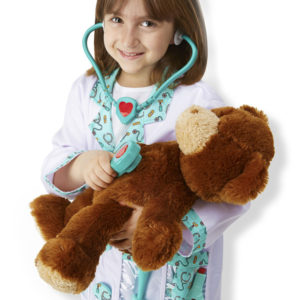 The doctor will see you now! With this set your little doctor will be fully equipped with a jacket and face mask, a stethoscope with sound effects, a reflex hammer, an ear scope, a syringe and a name tag for personalizing.
My Busy Town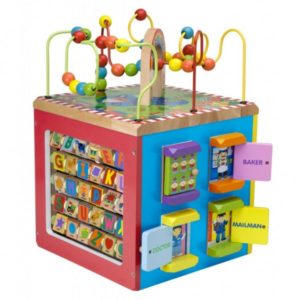 When you're out and about in town, baby is looking and taking it all in. Keep their imaginations growing and help them discover of the world around them with My Busy Town activity cube by ALEX. 5 sided fun includes curvy bead mazes, peek a boo open and close doors, racing car rollers, animal matching and ABC tiles that are all part of this amazing journey of learning through play. A sturdy wooden base that will withstand even the most demanding 'trips' into town, this toy is as stable as it is fun and colorful to look at. Watch your baby grow their own world with My Busy Town!
Farm Wall Panel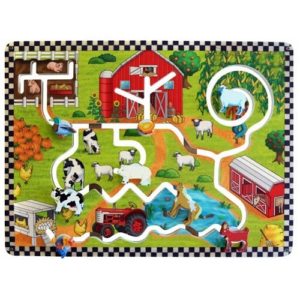 The Farm Wall Panel is decorative, fun, educational, and keeps kids busy! Children are endlessly entertained as they move the wooden farm animals to travel and graze around the beautiful farm. Wooden figures include a horse, cow, goat, rooster, sheep, duck and pig which children can guide along the paths to various locations on the farm such as the barn, paddock, pig pen, hen house and pond. The farm landscape includes, grazing animals, tractor, rows of corn, pumpkin patch, haystack and greenery. While guiding the farm animals along the paths, children's eye-hand coordination, visual tracking and sensory motor skills are challenged. Kids experience the excitement of farm life with this very special wall toy. No loose pieces and wall mounted, it is a great space-conscious addition for the home, schools, doctors' offices, and all waiting rooms!
School House Wall Panel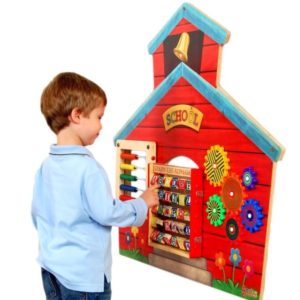 The School House Wall Panel is a fun, educational, and decorative activity panel.  The colorful graphics reminiscent of a little red schoolhouse attracts children of all ages and the different activities will keep them entertained for hours! Kids will learn counting and color recognition with the Counting Abacus bead learning game, which includes 10 beads on each row. The colorful spinning gears introduce little ones to the principles of mechanics and physics of motion through fun play.  And in the center, The Learn the Alphabet toy, made of individually embossed wooden blocks, teaches kids their ABC's along with corresponding words that match the letters (ex: A=apple). No loose pieces. Perfect for daycares, preschools, waiting rooms, homes and any child friendly environment!