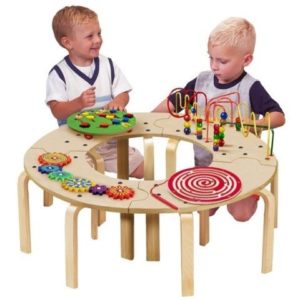 5 Toys That Promote Thinking Skills
Y grow up takes very serious the cognitive development in children.  We offer toys that are very well picked by our professionals to help children develop their Einstein potential thinking skills. Giving children the base to face challenges throughout there maturity levels of mind-boggling educational toys. Helping develop there sorting, sequencing, counting, memory and puzzling skills through problem solving toys and games.
Shapes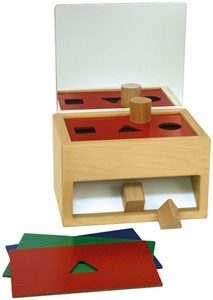 The child learns to grasp and fit 3 dimensional shapes, and to discriminate between 3 basic geometric shapes.
The child also begins to develop a self concept by watching his/her performance in the mirror.
An innovative idea combining shape sorting activities with a mirror. Young children are fascinated when watching themselves perform. Child sits in front and straddles the box. When a shape is placed through the opening it slides down and lands between the child's legs, allowing the child to repeat the activity over and over without assistance. Mirror extends the child's attention span. 5 removable plates provided. Child works first with individual shapes and graduates to all 3 shapes.
Color Matching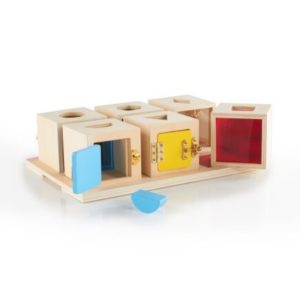 Unlock each box to explore what's behind each door! This set of six wooden lock boxes is ideal for learning shape, color, and spatial relationships. Strengthens problem-solving and fine-motor skills. Wooden lock boxes to reinforce fine motor skills
• Match the chunky geometric shapes to the cutouts on each box
• Transparent colored windows to view what's inside
• Educational Focus: Strengthens problem-solving, fine-motor skills and develops finger dexterity
• Age recommended: 2+
Sorting

First chunky pegs are perfect for tiny hands.
Baby can stack, sort and match chunky colored pegs while developing motor skills and hand-eye coordination.
This 20-piece baby block set set includes colorful chunky pegs and pegboard. For ages 18 months
Problem Solving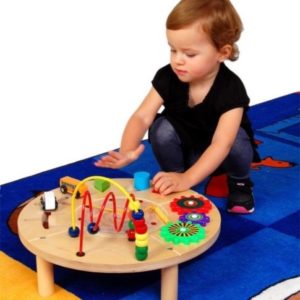 Circle Play Center – Kids love playing with all of the fun activities on this toy, using their imagination to move the beads on the wires, sorting and matching the blocks, moving around both the colorful gears and the beads through the pathfinder maze, and using a magnetic wand to magically move the balls through the circular maze. This play table not only keeps kids entertained for hours, but promotes play-based learning, enhancing and challenging fine motor skills, shape and color recognition, eye-hand coordination and creative problem-solving skills.
Playtime has never been more fun and engaging! This table is great for the home, play rooms, classrooms, and waiting rooms!
Puzzle Skills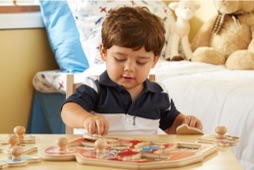 Seven favorite farm animals and a farmer stand out against the big red barn. Extra thick wooden puzzle includes eight pieces, with jumbo wooden knobs that are easy for children to grasp.
Full-color matching pictures appear underneath each piece.
Encourages hand-eye, fine motor and visual perception skills.