5 Award Winning Toys
Ygrowup's award winning toy are an excellent choice for you to reward your kids with!
Ygrowup.net is constantly researching all the educational toy companies to provide parents with the best award winning toys. You can find them in our website. These are our 5 pick toys for different ages.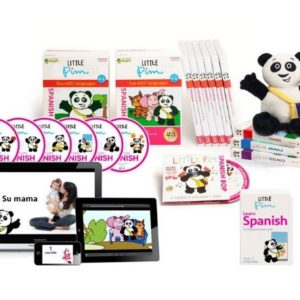 Spanish with Little Pim
The Spanish Complete Set introduces 360 fundamental words and phrases your kids will want to repeat again and again. As your children discover the words for their favorite foods and feelings (and more!) in Spanish, they are also learning the perfect native pronunciation. Use the videos as their first introduction to Spanish and watch your kid's progress! The colorful books and flashcards reinforce and expand on the videos, providing our most comprehensive introduction to Spanish for your little one.
uKloo Early Reader Treasure Hunt Game
Shh! Don't tell the kid's that it's educational!
Disguised as a treasure hunt, this multi-award winning children's literacy game gets kids physically active as they read clues and search to find a hidden surprise. There's even a Picture Helper poster to look up words when kids get stuck! The children are so engaged, they begin reading without even realizing it. Great for beginner and reluctant readers, ADHD and children of all abilities. Selected as one of the 10 best classroom games and toys by the American Association of Educators. Developed by a mom with the help of educational advisors, kids and parents.
Tiggly Chef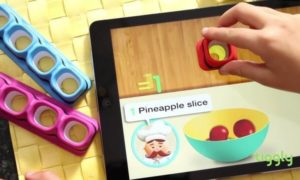 Welcome to the silliest kitchen in Tiggly Town!
Learn early addition concepts and think flexibly about numbers while helping Chef prepare his signature Spicy Hula Monkey Cake, as well as over 40 other outrageous dishes.
Tiggly Town's greatest, most mustachioed Chef tells you what he needs to prepare his preposterously silly recipes, and you help by adding the exact number of ingredients Chef asks for to get the recipe right. You can even suggest your own recipes to Chef. While ingredients are added, mathematics symbols appear on screen explaining your actions, helping you naturally learn numbers and early addition concepts. Surely Chef will encourage you to follow instructions and think flexibly!
I Can Spell! Alphabet Puzzle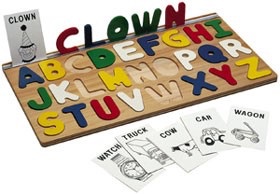 Young minds are ready to spell before the hand is ready to write. Giant alphabet puzzle with letters in bright primary colors. Letters are raised above the surface of the puzzle board, for easy removal and fitting. TAG's unique spelling tray allow the child to stand up letters and build words by copying word cards provided with the puzzle. The puzzle is made of high impact laminate surface which is durable.
• Develops fine motor coordination by handling letters and placing them into the puzzle.
• Improves visual discrimination skills by discovering the differences among shapes and colors.
• Teaches the names of letters and their sounds.
• Presents alphabetical order.
• Introduces spelling with simple words.
Beep-Beep & Play Activity Toy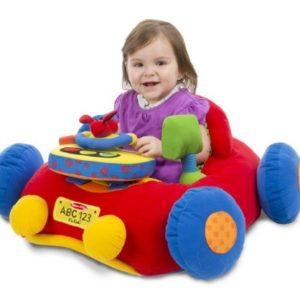 This sit-in play car lets little ones rev up and take off for fun! With a clicking steering wheel, light-up dashboard, rear-view mirror, and an engine that plays music when the key is inserted, this activity toy will keep your child happily occupied while building physical, cognitive, and social skills. There's even a cup holder on the side and a mesh "trunk" in the rear to take favorite toys along for the ride! Packed with whimsical novelties, this car engages the senses and nurtures growing skills.