Arrange the six geometric, colored shapes with gears on the flexible base to configure a variety of chain-reaction layouts: a row, a snake, a triangle, a square, or a circle.
Show your toddler how to maneuver the large, easy-to-grasp shapes, and then spin the gears – supporting their fine-motor development.
Each gear can be fit only with the matching shape, strengthening your child's understanding of different shapes and sorting skills.
The pieces are especially designed for little hands to grasp and easily fit on the base.
Regardless of the base layout, the gears will always spin, much to your toddler's delight, and enabling frustration-free playing and learning.
Encourage color and shape recognition by identifying them as you play together.
What's Inside
6 x Geometric shapes with gears
1 x Flexible base with six colorful shapes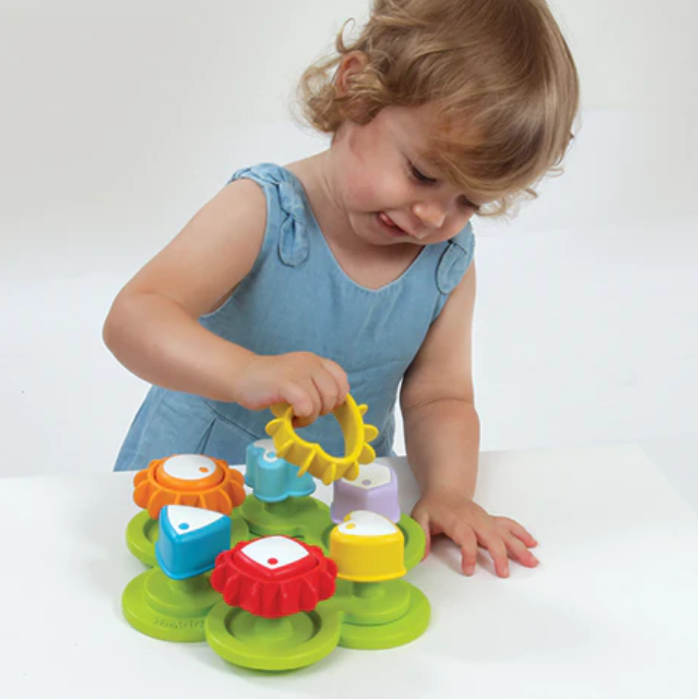 Learning skills
When your child matches the shapes and colors they begin to engage conceptually with categories, which is fundamental to later language development and processing information. Promote STEM learning by counting out loud and categorizing the pieces together.
Knowledge Acquisition
When your child builds a chain of gears that spins, they begin to see STEM fundamentals, "indirect cause and effect," energy, speed, machine learning, and engineering basics in action. Your child will gradually construct more complex shapes, for example a triangle instead of a straight line, and learn new concepts in the process.
Imagination & Creativity
As your child creates different shapes with the gears, like a circle or a snake, interact creatively with them. Encourage your child to try new configurations by making suggestions of shapes to create, and also by giving names to shapes they have already created.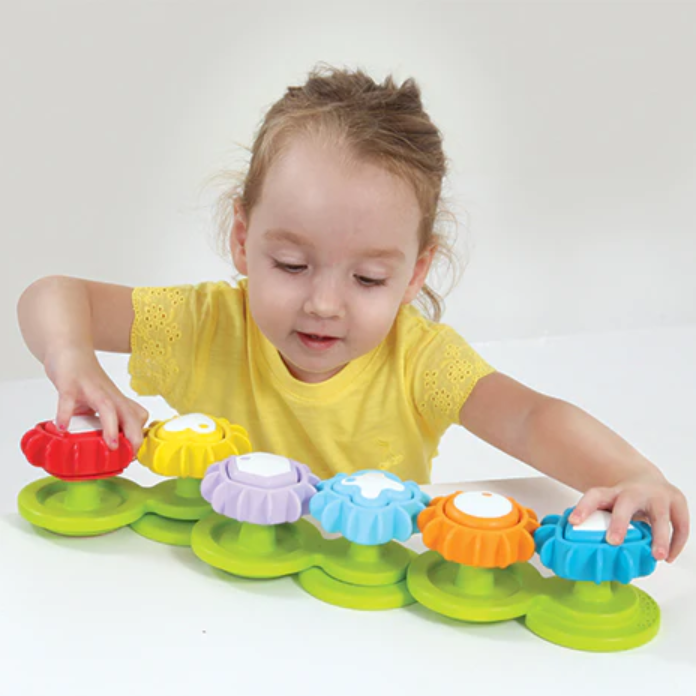 Fine Motor Skills
As your child fits each shape to its base, they must hold it firmly in their fingers, sometimes trying it from various angles until it sits right. This helps to build their fine motor skills as well as their hand-eye coordination.
Coordination
Once your child has created a string of gears, they may use two hands to maneuver the full linked shape. This strengthens their ability to coordinate bilateral movement and use their two hands in corresponding actions.
Senses
Your child's senses are prompted by the gears' edges which can be touched and safely teethed upon, enhancing tactile development. When your child sees the gear's bright colors, it ignites their visual development. The more stimulation received, the more your child learns to process and analyze it.
Social & Emotional Development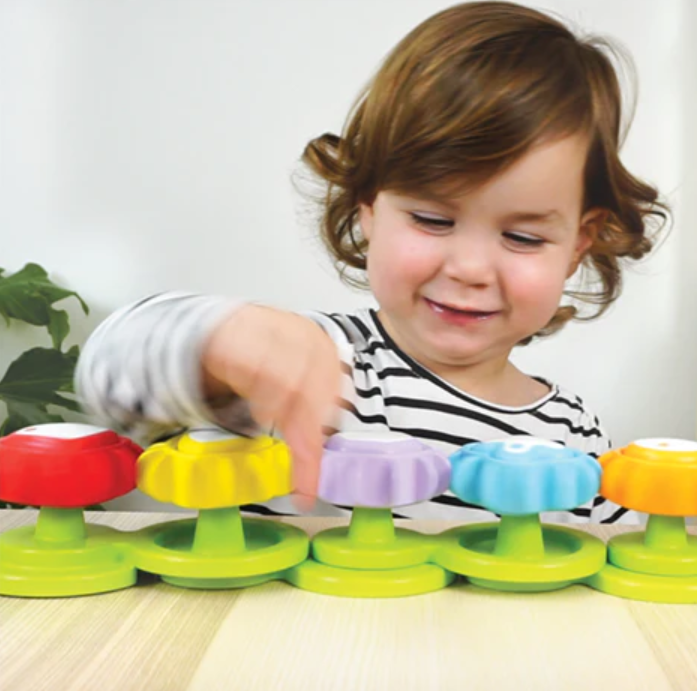 Self-Expression
When your child arranges the gears according to their preference, they are expressing themselves. The configuration may be random or the same way each time. Learn about your child's preferences and prompt them to expand their repertoire. "Let's try it a new way now!"
Communication
As your child plays with the gears that have no automated sound, involve them in more elevated conversation – beyond basic baby talk and terms. Start to expand their vocabulary, by saying for example, "Let's place the blue clover shape here on the right."
Confidence
Adding the shapes is easy and no matter how your child configures the gears, they always work, building your child's sense of accomplishment and self-confidence. Encourage new opportunities for that sense of accomplishment by modeling varied approaches to the gears.